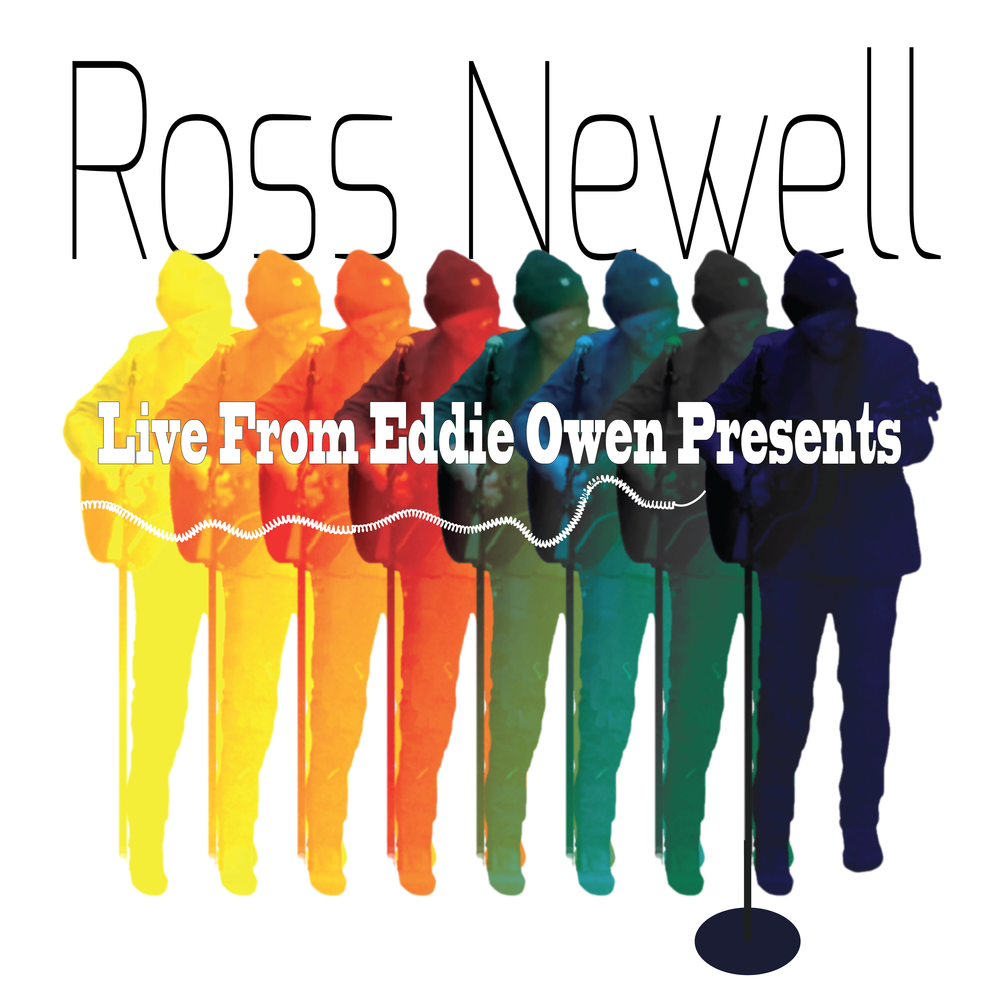 New Album
Out now
if you listen to music on Spotify, there's a small thing you can do that will be a big help to me, Follow me there.
That way I can keep you updated whenever I release new songs or playlists.
If you have a second, please click "follow" below. It really will be a huge help and I'll send an immediate psychic hug in return. Thanks.
 Album Review - by Paul McGee - Lonesome Highway UK.
Ross Newell Live From Eddie Owen Presents Self Release 
This is a very welcome return to the table for a talented singer-songwriter who has many gifts to share. As the original creative source and founding member of the Mulligan Brothers, a superb band from Mobile, Alabama, Newell has been honing his song craft over many years now. The three studio albums released by that band are all highly recommended, full of great melodies and songs that reflect the daily push and pull of everyman, in trying to make real connection and looking for enduring meaning. 
Ross Newell sings with a voice that is both quietly hypnotic and sweetly warm in tone. He is also a very fine guitar player, as this live album highlights. It is something of a brave move to record a solo record in a live setting with nothing but the naked spotlight of stripped-down guitar and vocals. The fact that there are no mishaps during the performance or song delivery is true testament to an artist who really should be playing to a much bigger demographic. 
With the band on a prolonged hiatus (never say never), Newell has decided to put out an album that really shines a light on his winning ways, not only in the writing but also in the confident, relaxed manner in which he delivers these nine songs. Recorded at the Red Clay Music Foundry in Duluth, Georgia, a venue that hosts songwriter nights under the banner of 'Eddie Owen Presents' - his set ran for 40-plus minutes and included 6 songs from the previous Mulligan Brothers albums, plus 3 new songs that were given an airing in front of a very enthusiastic audience. 
An added bonus is the presence of The Krickets, a female trio from the gulf coast who deliver the most captivating harmony singing, with a blend of Folk and Americana influences in their music. Here, they join Newell for the last 2 songs of his set and bring plenty of colour and nuance to the versions of Red Dress Lady and Sensible Shoes. 
There is real quality to the whole production, with a crystal-clear sound and an easy atmosphere to the proceedings that makes you feel like you were actually in the venue yourself. The new songs are, Hold The Door, which espouses good manners and that proper habits mark the man "just be somebody who says sorry when you're wrong." I Miss You Already is a song of wanting to freeze the moment to capture a special feeling towards his wife and of gratitude for the life they have. That Stagger Lee Song is a salutary tale of defending one's rights in the face of intimidation and is a story song that spins a timeless message. 
Elsewhere, another story song, I Know That Man, tells a tale of domestic abuse and sweet revenge. Kaleidoscope is a tale of life on the road and filled with lonely feelings of self-doubt and aimless drifting. So Are You is a song about making a stand and striking out for independence and identity in following your dreams, while Roseanne is an old favourite and tells the secrets of the archetypical tour bus that hauls musicians all over the highways of America. Great puns in the lyrics and double entendres to the fore!  Newell breaks out his harmonica on this one to add great dynamic to the performance. 
Sensible Shoes is a highlight with its caustic look at the downtown nightlife in Mobile and the pretty girls who stumble around in high heels looking for storybook romance or some tenuous connection. Newell observes that 'everybody here's a stranger we just know each other's names' and captures the hedonistic need to escape the daily routine in the lines "all our sunrise reverends are sunset sinners too." Excellent stuff throughout and a highly recommended album. 
Review by Paul McGee
"

Ross Newell can usually be seen and heard as the lead singer and songwriter in The Mulligan Brother from Mobile AL – his song writing weaves heartfelt tales of love and loss into complex yet comforting storytelling, the combination of which will leave you nostalgic for something (or someone) that you can't quite put your finger on. With a remarkable universality, you could as easily imagine the tales spilling from the mouth of a storied, laugh-lined old man as his teenage grandson grieves his first heartbreak. He sings and plays about where they've been in a way that makes us all realize we've been there, too."
"

Last night he wowed the audience with his solo performance. The house was packed and the crowd didn't want Ross to stop playing his old tunes and some new ones that aren't recorded yet. He is a class act, great performer and a nice guy! We love him and want him back soon! "
— John Burns - Dyson House Listening Room
"

Newell's voice tends to be very contemporary. He often overlays the rippling flow of the music with a fast-paced, verbose patter, and he packs songs with sharp imagery. Newell has a gift for phrases that pop out and grab you, even when you've set the album playing in the background. "
— Lawrence Specker, AL.com
"

A humble and unassuming genius, One of our best shows ever!"
— Jim Pennington - Listening Room Mobile AL
"

If you're a fan of Trampled by Turtles, then you're going to feel right at home listening to Ross Newell on lead vocals."
— Regional Musician Magazine
"

Singer/songwriter Ross Newell brings a warmth and finely crafted talent to the live experience and his superb vocal tone reveals one of the finest voices I have heard in some time. "
— Paul McGee, Lonesome Highway Magazine